The Most Remarkable Repair Contest
The Most Remarkable Repair Contest
And the winner is...
Siba Sahabi with her one-day bags
Sahabi repaired a simple plastic bag that got caught between the spokes of her bicycle, and decorated it with an embroidered reference to the action that damaged the bag. In this manner she made a series of five fragile bags that all carry a special memory. They are not just pretty, Siba Sahabi's entry questions if there is space for imperfection: objects with a handicap, oddity or story. Because, to be honest, even after repair the bags are not very robust.

The jury praised the way in which Sahabi transformed a plastic bag, symbol to the throwaway society, from something worthless into something valuable. Something breaking down or ripping is no longer seen as negative, but as a motive to be creative and an opportunity to tell a new story. Sahabi literally does that by giving the bag a diary function.
During the award ceremony on Sunday 30 August Sahabi received the one and only Repair Award created by artist Jan Vormann. She also took home an extensive tool set that Dremel awarded her with.
Next to a winner, the jury, consisting of amateur repairwoman and hotel owner of the Lloyd Hotel Suzanne Oxenaar, tool tester and editor-in-chief Erwin van der Zande of Bright, and curator and inventor Arne Hendriks of Platform21, also selected a runner-up.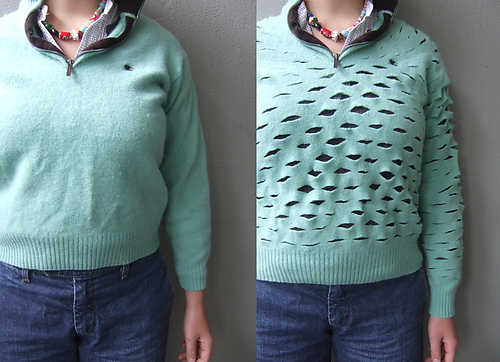 Shrunken sweater, Calypso Schuijt
The problem of Calypso Schuijt was a familiar one: in laundry her wool sweater had shrunk. Not wanting to give up on her favourite sweater she looked for a way in which to enlarge it again. By cutting a brick pattern in the fabric, it regained its stretch and so the sweater stretched to a wearable size again when she put it on.
The jury admired the way in which Schuijt repaired the sweater by damaging it even more: by cutting holes in it. This contrast promotes a new way of thinking.
Dremel also congratuled Calypso with a Dremel toolset.