Platform21=Joyriding offered a visual road trip into the imagination. Not a car show but an aesthetic joyride, it was all about form and feeling rather than engineering. Our sampling of amazing imaginary cars, some dreamt up by graduates of London's Royal College of Art, reminded that automotive design can still take our breath away and keep us curious about the future.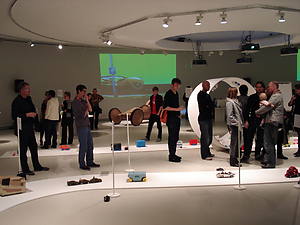 The exhibition brought together animated visions of concept cars, scale models of vehicles that made you think differently about cars, and designer-pimped remote-controlled rides. Our fantasy fleet transported visitors back to a childlike joy in form and movement and a need for speed.
The projected animation showed a highway as it might look in a few years time. It provided a glimpse into a future of softer, rounder shapes. Cars as personal 'bubbles' in which you can find peace of mind and which move slowly. If it is not meditation, but adrenaline you are looking for, you would have been astonished by the futuristic forms of the designs of Filip Krnja, shown in a Manga anime.

In 1958 Disney forecasted what the highways of the future would look like. We thought this film was so fascinating that we showed 'the Magic Highway' in the exhibition.
Next to the projection, there were also several models on show; most of them on scale, but others in real size. Like the cardboard version of artist Hugo Vrijdag's eMotio. You drive this tricycle by shifting your weight from one side of the vehicle to the other.
A miniature of Jose Ramon Lopez Gonzalo showed his concept The New Gypsies, a car-and-house combo featuring a detachable vehicle. The Bugiman of Ehsan Moghaddampour is made just to race around an empty dessert; its raison d'etre is fun. Click the fields to the right to read more about them.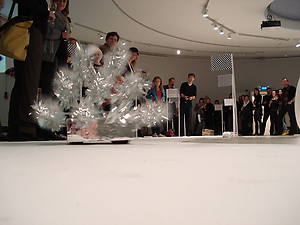 During the opening we raced the radio controlled cars over the race track that was build in Platform21.
When we asked designers to convert toy cars into their ultimate joyrides, it was green lights all the way. In Platform21 = Joyriding showed dream cars by furniture designer Bertjan Pot, industrial designer Marijn van der Poll, interior designer Frank Tjepkema, jewellery designer Dinie Besems, fashion designer Monique van Heist and by the garage team of MTV's show 'Pimp My Ride'. Click 'The ultimate joyride' to see the pictures.
Platform21 = Joyriding took place from 18 November 2007–3 February 2008.