report
report
No Reference now in book form
Coppens: It was one big exercise
33 Haute couture accessories coming into being, searching for their own form and style, might be the best description for the installation No Reference at Platform21 in retrospect. In the meanwhile the pieces have been wrapped and are no longer on show, but for those who still want to follow Coppens' special exercise, a beautiful book has been published. During the book launch, the Belgian couturier and critic and curator Pieter van Bogaert reviewed the design process in a public conversation.
"It was a nice experiment, but I am very happy to return to making deer and rabbits."

Pieter van Bogaert wrote the preface to the book No References, in which he questions whether it is possible to work without references in a fashion collection. He ends his preface: 'put the people themselves on the stage, make the visitor an actor, the user a director. Make your public part of the process.' You can read parts of the conversation in which Van Bogaert and Coppens look back on the project below.
About the making process
Coppens starts: "What we had in mind was a work in progress. The installation as a studio in which I would continue to work on the pieces, sometimes together with visitors. That didn't work out so well actually. I had difficulty returning to work that felt really 'finished' to me and that was already launched. I also found it hard to work on the collection with visitors. The seamstresses that had applied were skilled, but you don't know these people; you don't know what they can do and what they are good at. Furthermore the four hour sessions were really short, I didn't come much further than looking for the right scissors and yarn, explaining and demonstrating."
Pieter van Bogaert: "When I look at the collection now I have the feeling it is less finished than it was during the opening."
Coppens reacts: "At the opening there still were pins in all the pieces. We did so much sewing as those needles are now out, but I haven't really continued and developed the pieces further. I should have worked for multiple days in a row with my own seamstresses from my studio in order to do that."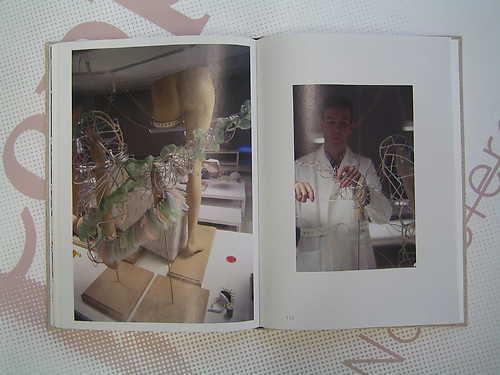 No References
About wearability
Van Bogaert: "Your last collection was said to be unwearable. Singer Roisin Murphy proved the opposite and wears that collection during her performances. Do you think she will wear this collection as well?"
Coppens: "Some pieces are really not made to be worn. Who wants to walk around with an enormous treadmill on her back? For this collection I looked at what a body is, what a socket or hollow is and what the pressure of an accessory on the body is. I did not start from zero, I looked how I could take that next step, but in principle all pieces still fit on a body and are thus theoretically wearable. Besides, it is all couture, which we means we could make it to measure on the client's body.
I was resenting starting on this collection, because it is about editing and deleting, which I find difficult. It was nice to think about it, but to carry it out was scaring me. But I had to. Up till then I had made two couture collections consisting of huge outfits, like a cape with a life-sized deer draped over the shoulders. The question I had to ask myself was: will I go even bigger and more spectacular or is it a bigger challenge to do the opposite?
Normally you don't get all the means to make a couture collection for nothing. Now it was literally given to me as a gift, which made me feel obliged to push myself further.
Tomorrow everyday life continues and I will have to make things that everyone wants to buy again. But honestly speaking I cannot wait to go back to making deer and rabbits."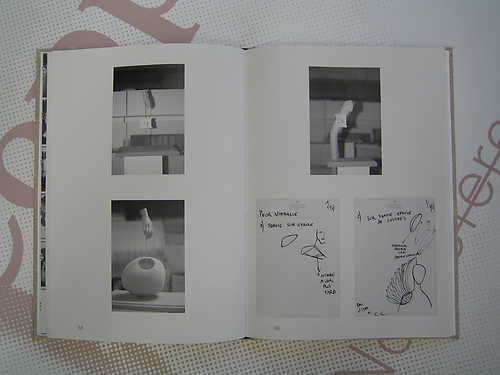 No References
About how to continue
Coppens: "I don't have one favourite piece in this collection. My favourite is the whole: how one thing influences the other. Material, structure and colour: it all comes together. I also installed it to work that way. If I would have had more time and peace to work on the collection, I would have connected all the different pieces with each other to illustrate this in a literal way.
Now I know that the installation will be shown in the Boijmans van Beuningen in September? I will not unwrap the pieces in the meantime. I will give it some time to settle, so I can look at it in a fresh way in September."
No References for sale
The book No References documents the creation of the collection in photos: from the first sketch to the installation in Platform21. With a preface written by Pieter van Bogaert and an interview with Han Nefkens, who commissioned the work, by Jose Teunissen.
The book is available in Dutch or English, in hardback and costs €22,50. To order click here