feature
feature
You can repair anything
Even a plastic chair
The famous plastic chair, also known as the monobloc, is sold worldwide for only a few euros. As soon as this mass product is broken, it is replaced by a new one without any further consideration. This results in 21 million chairs being thrown away in Europe yearly. Unnecessary, as this product lends itself perfectly for reparation.
Inspiration can be found in developing countries, where repairing comes logically and naturally. The methods are simple, creative and effective. Like the monobloc below, repaired in Mozambique.
An easy interference with steel wire often is enough to restore the chair into its old condition.
Thankfully there also are designers who want to prevent the monobloc from the garbage dump. The French designer collective 5.5 designers offers a solution for old and broken chairs. For their project Reanim, Sauvez les meubles (save the furniture) they designed a special repair kit.
Consisting of a prosthetic chair leg and elastic, it enables fixing a chair and re-interprets the standard garden chair at the same time. Like to try out for yourself? The prothesthic pieces by 5.5 designers are on show at Platform21 and also for sale.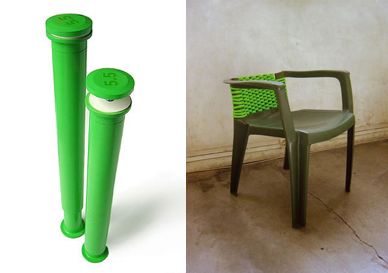 Reanim
Reanim: 5.5 designers
Lack of time or inspiration for repairing the monobloc is no longer an excuse, with commercial products like the plastic welders glue it just takes a couple of minutes to restore this all time favourite.
More stories and images of creative and innovative repairs of the monobloc are welcome. Send an email to and share your repair technique!
Like David Heldt from Amsterdam whom sent us below pictures of a repaired monobloc he found standing in the Parco Nazionale del Cilento e Vallo di Diano, in South-Italie: